Featured Cars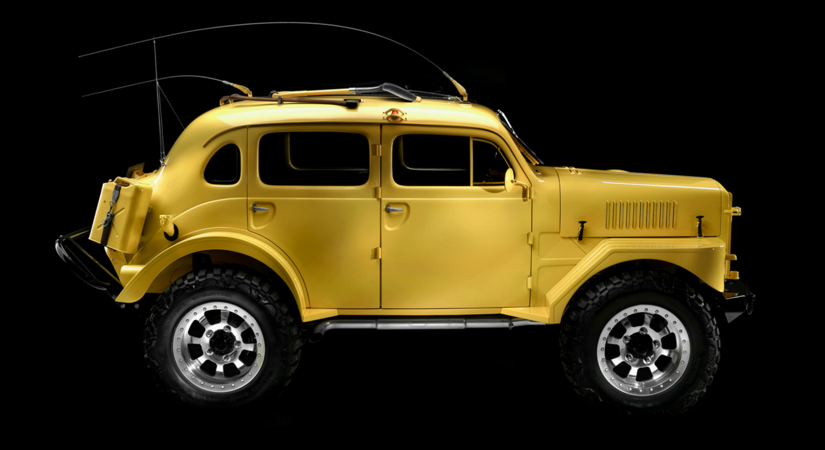 Sugga
1957 Volvo Tp21 Radio Command Vehicle
Year: 1957
Make: Volvo
Model: TP21
Length: 177"
Width: 77"
Height: 77"
Weight: 7945lbs
750 Demon Carburetor, custom radiator, motor mounts, headers, exhaust, power steering, transfer case. Air locking differentials, 1 ton axle with 7/14 gears. One off 22" custom bead locking wheels with Nitto 14x15.5 Mud Grapplers. Custom one piece electric tilt front end. Custom Tailgate package including built in cooler, two tv's waterproof surround sound speakers and a eclipse navigation system. also on board hidden Direct Tv satellite and playstation.
The Story
Every Man (and some Ladies) dreams of attending a Barrett Jackson Auto auction.
Perhaps it was all of the excitement, people or hubbub, but when David first saw a 1957 Sugga – Swedish Military Radio Command Vehicle cross the auction block, it was love at first site. As the Swedes out fit the command vehicles with bicycles, and David being an avid bicycle collector; a Sugga could fill the bill for two compassions.
Before long Dave was researching the history of the Sugga which led to many phone calls to Sweden. With the help of Pere, he was able purchase and ship into the United States just the 9th and 10th Sugga to be registered in the US.
What a honor for us to transform one of the Suggas into a radical tailgating machine with (2) televisions powered by satellite and a wide array of other electronic must haves. Fuel cans host speakers and 572 horsepower takes this vehicle anywhere! A remote control ice box makes "anywhere" a tailgater's dream.