Featured Cars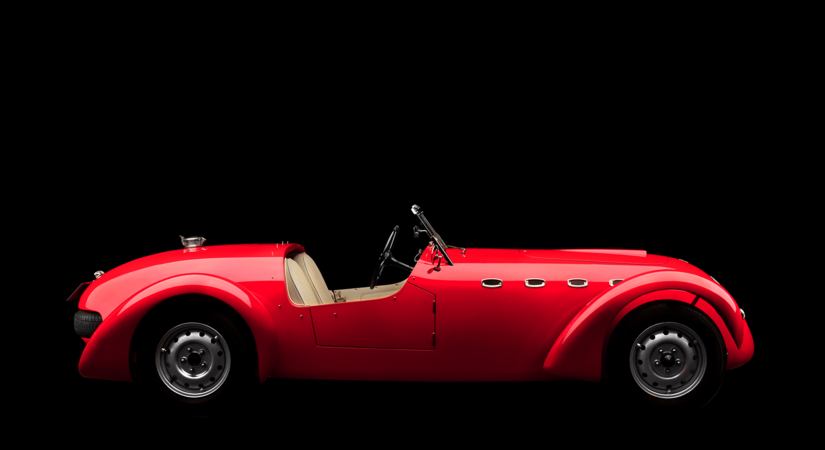 SILVERSTONE
1950 Healey Silverstone
YEAR: 1950
MAKE: SILVERSTONE
LENGTH: 168"
WIDTH: 58"
HEIGHT: 51"
WEIGHT: 2072 LBS
RILEY ENGINE AND REAR AXLE, TRAILING ARM SUSPENSION, REAR MOUNTED SPARE TIRE BUMPER, OPEN TWO-SEATER CIGAR BODY WITH CLAMSHELL FENDERS, WATERFALL GRILL
The Story
Chassis No. D30 was the 30th of 104 Healy Silverstones built by the Healey Motor Company of Warwick, England. Cameron Argetsinger purchased the car new and raced it at the Watkins Glen Grand Prix in 1950. Argetsinger had founded the original Watkins Glen GP three years earlier when the local Chamber of Commerce and the SCCA gave him permission to hold the now legendary race on public roads through the heart of town. It was running in third before the engine gave out. However, Argetsinger's poor fortune was not the tragedy of the day. During a considerable rain, Sam Collier's Ferrari 166 left the road and tumbled through an apple orchard. Collier passed later that day at the hospital in nearby Montour falls.
Argetsinger sold the Silverstone to Alvin Penn in 1952, and Penn raced it extensively at various Florida tracks including Sebring Raceway. Penn sold the car in 1956, and its ownership history is unknown until Walt Carlson bought it in 1966 and moved it to Tulsa Oklahoma. By then, the hood opening had been cut away to accept a non-original engine (most likely an American V8). Most of the steel floor was missing, and the aluminum body had been ravaged by corrosion and stress cracks. Luckily all four fenders, the steering wheel, windshield frame and grille were intact.
D30 was sold again in 1976, but it remained in Tulsa until 2005 when the current owners bought it and moved it to Cedar Rapids. Restoring this classic piece of British and American automotive history was a monumental task. As a result, three different shops and specialists worked various components of the Silverstone before it was brought to Eddie's Rod and Custom in August of 2012 to perform final metalwork, paint, and assembly.