Featured Cars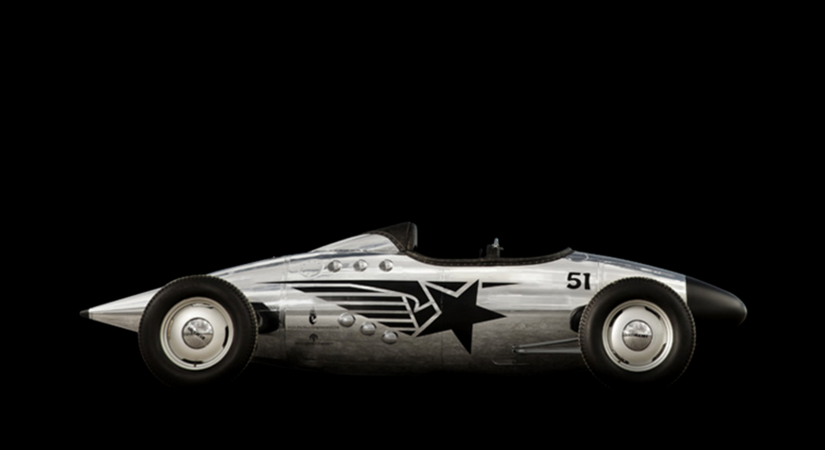 Lockhed Lakester
1917 Crow
Year: 1917
Make: Crow
Model: Lakester
Length: 74"
Width: 48"
Height: 52"
Weight: 1200lbs
Lockheed Super Constellation wing tip tank body, 1980 Toyota 3tc (Hemi) 4cyl, Saab 9000 Turbo Charger, 5-speed manual transmission, 9'' ford rear end, 14'' disc brakes, 1950 3/4 ton front axle, 20'' steel wheels, Custom chassis. Lockheed Neptune bomber seats, Rockwell aero commander steering wheel, aviation interior and gauges.
The Story
The production of the elegant Lockheed Constellation started in the late 30's and early 40's with Howard Hughes as an influential driving force behind this top secure project. Lockheed designed this powerful plane in secrecy for TWA until WWII broke out and the military requisitioned commercial planes for wartime service. The aviation industry was shocked by the technological advancements of the Constellation.
The "Connie" as it was affectionately dubbed, had unprecedented power with four 18 cylinder Wright R 3350 engines, top speeds of 340 mph and a travel distance of 3,000 miles. Early in the 1950's an even more powerful version took to the skies known as the Super Constellation. Increased power meant increased fuel consumption. The need for increased fuel capacity was addressed by the addition of twin 700 gal low wing tip fuel tanks.
As the 1950's drew to a close, the advent of the jet airliner rendered the piston engined Constellation obsolete. Over time most "Super Connies" were disassembled, with the tanks sometimes used for new and unique purposes.
In 2010 this tank was purchased on Barnstormers.com from a long time plane salvager who at the young age of 96 had used this tank as a hot water source for his cabin. His reason for selling the tank? To acquire money for his whiskey and cigar fund. His great spirit adds to the unique history and mystique of this project.
This all aluminum wing tip tank has been transformed into a two-person turbo charged Hemi 4-cylinder speedster in the style of a vintage salt flat racer.
Faithful to the aviation theme, the Lockheed Lakester is a unique hybrid of automotive and aviation components, celebrating man's longtime passion for airplanes and automobiles.
The cockpit features gunner seats from a Lockheed Neptune Submarine Chaser. Directional control is achieved by a vintage steering yoke from a 1948 Rockwell Aero Commander. The ignition switch is adapted from a 1940's era airplane magneto. Situational awareness is aided by a 1940's cockpit pitch indicator and airspeed is measured in knots and mph by a pilot tube and airspeed indicator.
Take a look at our Facebook album for more photos.