Featured Cars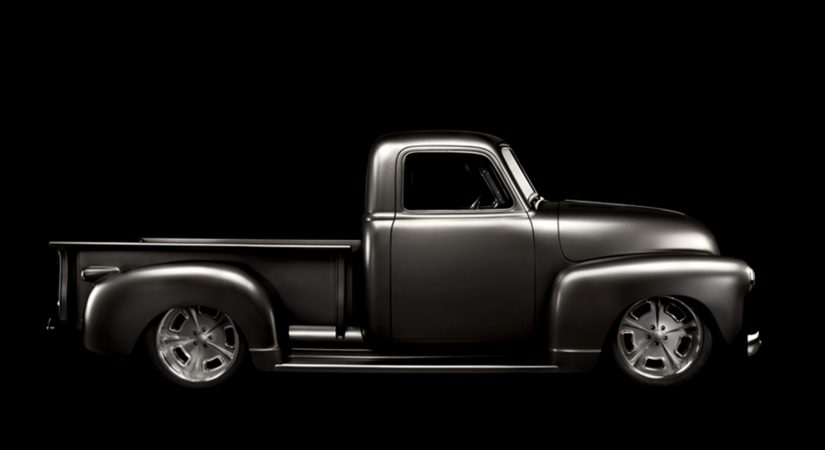 Grandpas Truck
1949 Chevrolet 3100
Year: 1949
Make: Chevrolet
Model: 3100
Length: 189"
Width: 74"
Height: 68"
Weight: 4000lbs
Art Morrison Chassis, LS3 engine, full stainless exhaust, wilwood disc brakes, automatic transmission, 9'' ford rear end, Kicker Q class audio system, 20'' Hot rod by Boyd wheels, custom leather interior, custom matte gray paint.
The Story
Grandpa's 49 Chevy
Ever since I was a child growing up on our rural Iowa farm, I can remember seeing this old truck (along with several other pieces of machinery) sitting behind our house in the pasture. I would occasionally wander back there, pry the door open, and imagine myself driving this cool old truck around. I wondered what it must have felt like to drive back when my Grandpa (Gysbert) purchased the truck. No matter how rusted the truck became, I knew I was guaranteed to see two things when I opened the door to look in the truck - the chrome Chevy symbol on the dash and lots of wasps! Both would always get the adrenaline going.
My Grandpa was always special to me in several ways. The house I grew up in originally started as his. Then my mom and dad bought it from him on contract back in the early 80's and he moved around the block from us to another house he built on roughly 80 acres. I was constantly riding my bike, motorcycle, or ATV over there when I was a kid. My Grandpa was the most mechanically inclined person I knew growing up (other than my dad). He was constantly showing me how to weld, blow torch, or build something when I was over there - I loved every second of it! We worked on everything from golf carts to tractors, combines to trucks. He taught me so much as a kid and always kept me well fed in return for all work I would complete over there. I had many firsts at his house... first drink or beer, first taste of tobacco, first nudie picture and first time learning to drive a stick shift(in the pasture). My dad had found a 1967 mustang that was all rusted out with a 4 speed in it. My brother and I would take turns driving that thing through the hay field and flying through those gears like a nascar driver! My Grandpa and Dad would just watch, laugh, and hope we didn't run into anything too important.
My Grandpa eventually passed away in the summer of 2009 doing what he loved, which was driving his side by side around the block to share items from his garden with my aunt, uncle, cousins, and other family. He suffered from macular degeneration and probably should not have been driving, but that never stopped him. After his passing, the family spent the next several months dividing up his many old belongings. At this time, nobody had any interest in his old junked out trucks sitting on our farm so they continued to sit and rust out. After a couple of years, my mom and dad decided to sell the farm house and the couple acres it sat on. This meant it was time to clean up the old equipment and junk laying around. Most of the items we loaded up on a trailer and took to the dump, but something drove me to take the truck and bring it to Cedar Rapids,IA to bring it back to life. Gysbert was always taking something that was junk to others and bringing it back to life. I felt it was my turn to do the same and have something to remember him by.
I dropped the truck off to Eddie's Rod and Custom in December of 2014 and had a basic plan of what I wanted to do. I wanted to build the truck to be a daily driver that I could hop in and drive anywhere with my wife or two boys. I also wanted to make it out of the ordinary as far as looks and finish. Eddie and Ed Sr. were filled with lots of great ideas and helped to channel my thoughts into reality on the truck. The chassis we selected was a custom Art Morrison Chassis that allows the truck to handle like a sports car. The LS3 motor and 4l60e transmission give the power and reliability that I was looking for. The HRBB wheels on the truck were probably the
second hardest decision for me with the truck, other than the actual color that we painted the truck. Eddie and the crew did an amazing job of hand-making several of the parts on the truck right there in their shop. We salvaged as much of the original body as we could from the truck. Some of the pieces that we weren't able to restore were re-purposed, such as the tailgate the guys made into a bench for my Mom, which now sits on her front porch at her house in Altoona, Ia . The bench is consists of the tailgate for the back rest, along with the original taillights and two of the most rusted fenders. It was a surprise piece that the guys were able to put together for me to give my mom to allow her to remember her dad each day she walks past it at the house.
A few of the cool Eddie's Rod and Custom touches on the truck include Kicker Speaker set-up with an Alpine Bluetooth head unit that is hidden behind the stock panel in the truck. We installed a Vintage Air AC unit in the truck to allow for comfortable driving on the hot Iowa summer days. The truck has a keyless touch sensor ignition. We also eliminated the door handles on the exterior of the truck and installed a key fob based door system, which helps to give the truck that one-of-a-kind, clean appearance that we were going for. The bumpers on the truck were cut down to be closer so that they did not stick way out like the original ones did. We removed the gas tank and installed it under the new Bed Woods Original Hardwood bed. I went with a new, what I call "used red," interior from Bob's Auto Interiors in Center Point, Ia. I wanted to keep the interior looking as original as possible and so we went with a vintage gauge set up, and also a bench seat, so I can have both of my boys ride with me in the truck. The guys were able to put the entire wiring setup and computer system under the seat of the truck, which folds up for access when needed. One of the coolest custom finishes on the truck that true hot rod enthusiasts will notice are the one off taillights that Ed Sr. was able to find at a swap meet for the truck. They started their life on a 1940 LaSalle 50 Series and Eddie's was able to shape them to fit like they come from the factory on the 49' Chevy. Of course all of the lights were upgraded with modern day LED's as well.
Although the build on this truck took lots of time and patience to complete, I couldn't be happier with how it turned out. The truck has the sleek resto-mod look I was going for and the modern reliability of fuel injection that allows me to just hop in and go for a ride anytime the weather and work allows! I look forward to watching my boys grow up around the truck and sharing stories of my childhood with the man that inspired me to do this build. He taught me many things growing up and I picture him smiling down on my family and I every time I slam the pedal to the floor and hear that motor and truck come to life!