Featured Cars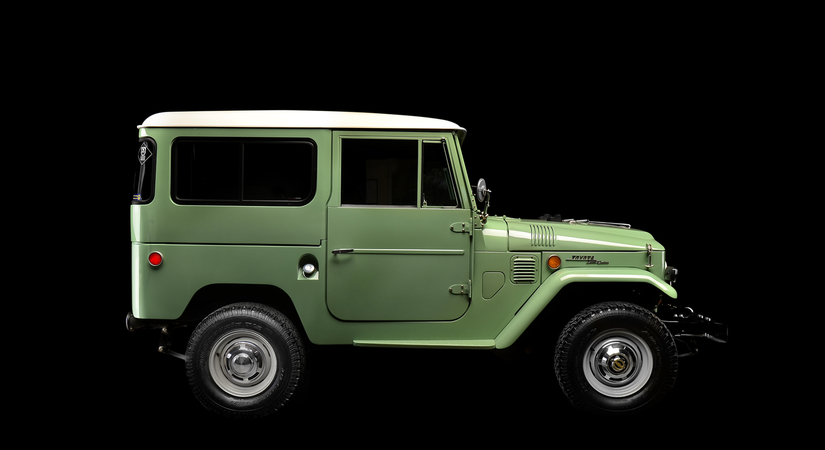 FJ40
1969 Toyota Land Cruiser
YEAR: 1969
MAKE: TOYOTA
MODEL: FJ40
LENGTH: 152"
WIDTH: 65"
HEIGHT: 76"
WEIGHT: 3263 LBS
TOYOTA 2F 4.2L STRAIGHT SIX ENGINE, 3 SPEED MANUAL TRANSMISSION, REPAINTED IN OEM SPRING GREEN, RESTORED TO ALL ORIGINAL TRIM AND SPECIFICATIONS
The Story
After World War II, the Japanese security forces needed a vehicle that was capable of going into the rugged hill country and contracted with Toyota to build this vehicle for them. This vehicle, the BJ25, was the first prototype to the FJ40. Beginning in 1960, Toyota began to export the FJ40 into the United States. Over the course of the next 23 years, over 100,000 FJ40's were exported. This ended in 1983 when production focused on the station wagons, like the FJ55 and FJ60 models. Worldwide production of the FJ40 exceeded 500,000 units in that 23-year time frame.
This little cruiser found its way to our shop via Tucson, Arizona, Chicago and Andalusia, Illinois. In 2000, it was "uncovered" by a couple of 16 year olds who had recently found a love for Landcruisers. They were looking for parts at a used Landcruiser parts supplier in Andalusia, Illinois when they came across 1969 faded red FJ40 with oversize tires, Chevy white spoke rims, and a blown engine. As teenagers can sometimes do, one of the boys convinced his father, to track down the owner and make an offer. The owner lived in Chicago and it had been his son's "daily driver" until the engine gave out. Prior to that they had invested a lot of money in it, and he was "sick of it and ready to sell".
With much coaching, the boys worked multiple weekends in Andalusia to replace the blown F engine with a used 2F engine from a later 1974 Cruiser. When it was done they drove it the 90 miles back to Cedar Rapids. The red "40" as it was affectionately known, was driven sparingly over the next 10 years. It was a great off road vehicle, and the father had hopes that someday it could be restored to new again.
In 2011, it was decided that a paint job might add some life to the vehicle. Once the technician got into it, it was at the all or nothing point and the "all" moved forward. The technician who led the restoration was one of the 16 year old boys who spent many hours replacing that blown engine 14 years ago in a barn in Andalusia, Illinois - Our own fabrication specialist, Mike Ernster.