Featured Cars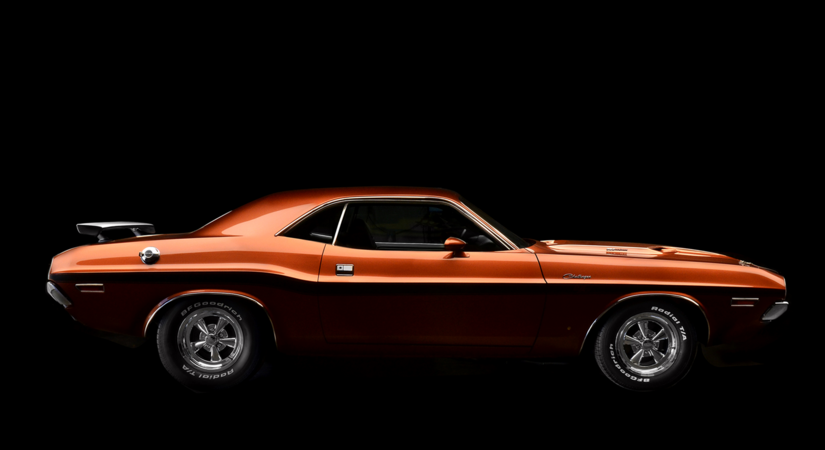 CHALLENGER R/T
1970 Dodge Challenger R/T 383 Magnum
YEAR: 1970
MAKE: DODGE
MODEL: CHALLENGER
LENGTH: 191"
WIDTH: 76"
HEIGHT: 51"
WEIGHT: 3801 LBS
TREMEC 5 SPEED TRANSMISSION WITH PISTOL GRIP SHIFTER, POWER FRONT DISC BRAKES, CUSTOM LEATHER INTERIOR MATCHED TO ORIGINAL PATTER, CRAGAR SUPER SPORT WHEELS
The Story
In 1975, Kim and his father went shopping for a car. The first car they looked at was nixed by Kim's dad for having too much power. Kim's search continued and before long, he found a 1970 Dodge Challenger with about 77,000 miles on the clock. After his dad looked it over, Kim got approval to purchase the car. Kim cruised the car with the expected vigor of a vintage Mopar and within a year, he blew the engine. The new engine fared slightly better before calling it quits in 1980. After the second engine packed up, the car was put in storage with the vision of one day returning it to its former glory.
30 years later, Kim was working in Cedar Rapids and a co-worker told him about Eddie's Rod & Custom. Arrangements were made for Eddie to inspect the car, and in April of 2013 The Challenger was transported to Eddie's Rod and Custom. The next two years were full of hard decisions for Kim, along with quite a few parts bills. The challenger needed plenty of body work including a full sandblasting, a patchwork of rust repair to the quarters and fenders, new floorpans, a new trunk floor, and fresh sheet metal around the rear window. Mechanically, it received a new Tremec 5-speed transmission, pistol grip shifter, rebuilt engine, fresh engine accessories, new headers and exhaust system, brand new brakes just to name a few. The car was finished off with a refreshed interior, a flawless coat of original 1970 Dodge burnt orange, and the signature R/T stripes.
Kim's Challenger was delivered in Spring of 2014, just in time to take it out for some cruising. Do us a favor and take it easy on the engine this time, Kim.